Discover more from Indie Media Today
Welcome to Indie Media Today - Original articles, content from independent content creators, livestream alerts for How Did We Miss That & Indie News Network, plus the podcast home of Friends of Indie Left. All links at indieleft.media
Over 1,000 subscribers
Indie Media Today's Substack Stats and Growth Since Notes Launched on April 8, 2023
A Few Interesting Metrics, Explaining Why I'm So Excited About Substack
I love this platform - been on here for 2+ years, and it just keeps getting better. I thought I'd share a couple of interesting metrics with you from our Stats section, starting the day Substack launched Notes (April 8, 2023) thru 2:30pm ET on May 2, 2023. Would LOVE to get input/feedback/advice on what YOU see: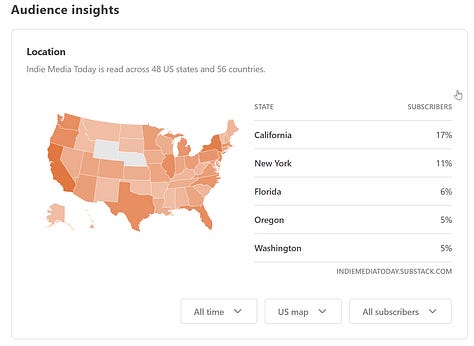 Here are a couple of key points/trends we've seen. We also brought over (imported) 200 indieleft.news subscribers on April 19 when paper.li closed it's operation and have seen even more of a lift since then.
Images 1, 2 & 3 - Locations - US Map All Time, Last 30 Days US & World Map

Indie Media Today was read across 26 US states in the time period (36% from NY, CA & FL) - all-time, we've been read in 48 states & 56 countries.

35% of our traffic is unknown or outside the United States.

82% of our traffic, and the top 4 Countries, English-speaking countries. There is an opportunity to grow with people who speak other languages.

---

Image 4 - Overall Daily Traffic (total unique visitors)

Averaging > 825 visitors per day, an increase of 50% over February.

Our FLOOR was 687 visitors per day for this period (we only exceeded 600 visitors 3 times in all of February!)

We had our first six (6) 1,000-visitor days. THANK YOU, EVERYONE!

---

Image 5 - Audience Overlap

We frequently read articles from

on How Did We Miss That?

A little sad to see

as high up on here as he is, only because

he's now left Substack for Locals

.

- we overlap on 2 of your publications! Plus I share you as the guest host of the Jimmy Dore show on here, so not too surprising there.

Other overlaps are

,

& both

/

---

Image 6 - Traffic By Source & # of Free Subscriptions Generated

Thrilled with the number of new subscriptions - heavily impacted by the time & engagement on Notes, but also the inclusion of tagging (at least on Desktop - hopefully expanding soon to mobile) made a big difference, too!

Look at how little influence Twitter had in driving measurable traffic - and we are on Twitter A LOT. The suppression of the links & the hiding of link previews is definitely hurting the overall value of Twitter as a traffic source.

Substack has done an outstanding job of marketing across other Substacks, using their mobile app & all the new functions like the web reader, tagging & Notes - it's where most of the new subscribers are coming from.

There's an ENORMOUS opportunity to grow traffic off Substack - it's barely getting any clicks from Google, DuckDuckGo or Bing.

---
The high-level analytics (summaries) have been one of Substack's weaker points to date, funny enough, but still have plenty of value. I know those are in the process of being upgraded, and the maps are just the first of many to come.
Substack provides phenomenal analytics at the granular level - posts & users. They already have the knowledge - often down to the user behavior level - about where the post/video/podcast traffic is coming from, links engaged, click paths followed, time on site, etc.
They will likely help creators discover more metrics to help benchmark & measure the performance of certain types of posts over time. They'll also likely empower publishers to understand how to better engage with certain audiences based on what resonates.
All that data should make it relatively easy for them to roll out meaningful, actionable reporting. The trick is how to get their users to DO ANYTHING that yields positive results because of the information gleaned.
Do you agree with my assessments? Any advice? Would love to hear it in the comments!
Excited to see where it goes! Please share this, Re-Stack it on Notes and consider becoming a paid supporting subscriber, if you can swing it and value our work.
Wherever you are, Indie is!
Video Sites
Social Media
Podcasts/Support
INN
Links: